Are you about to become a proud homeowner? Before you embark on this exciting journey, there are some crucial aspects of the home-buying process that you shouldn't ignore: tax certificates and title insurance costs.
Knowing how much title insurance is for your property is crucial for several reasons:
It ensures that you are the rightful owner of your property and protects your investment against title disputes.
Most mortgage lenders need a lender's title insurance policy as a condition of the loan to protect their interest in the property.
It provides peace of mind, knowing that you have financial protection.
The title insurance cost is a relatively small price in contrast to potential legal expenses you might incur if a title issue arises.
Title insurance is your safety net in real estate as it protects your investment!
What Is Title Insurance And How Does It Work?
Title insurance is a specialized form of insurance. It guarantees your right to own and possess a property. It offers protection against property taxes, probable title flaws, or challenges that may arise after you purchase a property.
When you purchase a new property, you're not just buying a piece of real estate, you're receiving its history. Sometimes, that history can come with unpredicted complications. That's where the cost of owner's title insurance comes in.
This is a crucial investment/precaution for property buyers!
They examine public records to uncover any existing liens, nuisances, or potential title defects related to the property. After calculating title insurance, the title company evaluates the risk associated with the property's title.
If no issues arise, the policy can be issued. In the unfortunate event of a title dispute or defect in the future, the title insurance policy offers financial protection, covering legal fees, court costs, and potential losses.
What Does Title Insurance Cover?
You may be asking yourself, what does title insurance cover? The costs of title insurance can vary depending on the policy and provider. Title insurance policies may cover the following title-related expenses:
Title Search
This covers the confirmation of property documents to ascertain legal ownership.
Title Settlement
There are expenses related to the real estate transaction's closing. It includes the payment of closing costs and the signing of documents needed to transfer property ownership from the seller to the buyer.
Escrow Services
You'll also have to cover fees associated with using an escrow service, which acts as a neutral third party to hold and disburse funds and documents in the transaction.
Land Survey
A land survey involves measuring, analyzing, and mapping the property's boundaries to ensure accuracy in property descriptions.
Real Estate Attorney
Title insurance policies may also cover the fees for a real estate attorney specializing in real property law.
Notary Services
Expenses are related to a notary officer who witnesses the signing of real estate documents and verifies their authenticity.
What's The Difference Between Lender's Title Insurance vs. Owner's Title Insurance
The cost of the lender's title insurance and the owner's title insurance differs based on several factors, like the property's location, the buying cost, and the title insurance company you choose.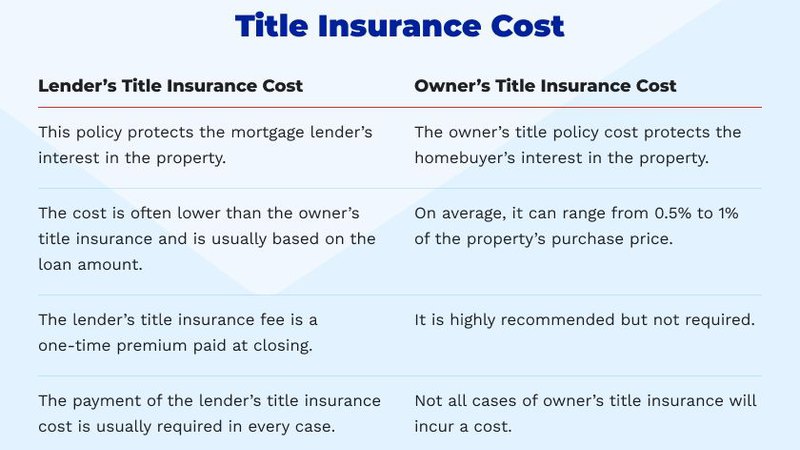 How Much Does Title Insurance Cost For The Property Owner?
Calculating the average cost of title insurance, you should consider a few factors, such as the property's location and purchase price.
Lender's title insurance is usually less expensive. It's a one-time premium paid at closing and provides long-term protection against potential title issues. Specific costs of title insurance depend on your situation and location.
Get quotes from title insurance providers and discuss the details with professionals involved in your property transaction.
What Fees Are Included In Title Insurance Costs?
The title insurance fee can differ by location and title insurance provider. Still, the title company fees may include:
Endorsement fees
Title search fee
Closing protection letter
Deed preparation fee
Government recording charges
Tax and other certificates
Overnight mail charge
Wire fee
Transfer tax
Settlement fee
Notary fee
Document preparation fee
Email/electronic document fee
Who Needs Title Insurance?
One of the most common questions future homeowners ask is, "Do I need title insurance?" Remember that title insurance is typically helpful for the parties involved in a real estate transaction. It also determines who pays for title insurance at the end.
Homebuyers
Homebuyers often purchase owner's title insurance to protect their assets and possession rights in the property.
Mortgage Lenders
Lenders typically require the borrower to purchase the lender's title insurance as a condition of the mortgage loan.
Property Sellers
Sellers can purchase title insurance to validate that they have a clear title and to deliver assurance to the buyer.
Real Estate Investors
Investors who buy, sell, or hold multiple properties use title insurance to protect their real estate portfolio from unpredicted title issues.
Where To Buy Title Insurance?
Title insurance can typically be purchased through various channels and professionals. There are many people involved in the real estate transaction process. Each one may offer a different price of title insurance:
Title Company
Most buyers obtain title insurance through a specialized title insurance company.
Real Estate Professionals
Real estate agents and brokers often work with title insurance companies.
Real Estate Attorneys
If you're working with a real estate attorney, they can help you obtain title insurance.
Mortgage Lenders
If you are getting a mortgage loan to purchase a property, the lender will typically need you to purchase title insurance.
Online Title Insurance Providers
Some title insurance companies offer online services. They allow you to obtain quotes and purchase title insurance policies online.
What Are Title Insurance Costs By State?
The title insurance rates are indeed regulated at the state level. The regulations for title insurance cost by state can vary from one state to another. The three common approaches states take to regulate title insurance rates are as follows:
Promulgated Rates
In promulgated states like Florida, Texas, and New Mexico, the state government sets a mandatory rate that all should shop for lender title insurance.
File-and-Use Rates
Some states, such as Colorado, Arizona, and California, operate under a file-and-use rate regulation system.
Proposed-and-Approved Rates
States with proposed-and-approved rate regulations, like North Carolina, require title insurance companies to submit their rate proposals to the authority.
Tips For Shopping For A Title Insurance Policy
Shopping for the cost of a title insurance policy is a crucial part of the real estate transaction process. Here are some tips to help you make informed decisions when you shop for lenders title insurance:
Shop around
Get multiple quotes
Add-ons
Negotiate with seller
Bundle your policy discount
Ask for discounts
Review the coverage for owner title policy cost
Contact CertSimple For Your Property Title Insurance
Title insurance is a vital precaution in real estate transactions. It protects both buyers and lenders from unforeseen title issues. Don't leave your property ownership to chance! Contact us today to get a personalized quote instead of relying on online average cost title insurance estimates. We'll ensure a smooth and worry-free real estate transaction.
And if you're unsure about what title insurance is in Texas, we at CertSimple can always help you with our expertise.
Your peace of mind is just a phone call away!
Title Insurance FAQs
Why Is A Title Search Required With A Mortgage?
A mortgage requires a title search to verify property ownership, identify any liens, uncover title defects, and provide peace of mind to borrowers. This way, you can know what you're getting into before you invest your property.
How Much Are Title Insurance Fees?
The average cost for title insurance differs based on factors like the property's location, purchase price, and type of policy. It's best to reach out to a certified tax professional to get a more personalized quote so you don't overpay for the service.
Who Usually Pays For The Lender's Title Insurance?
In most real estate transactions, the borrower or homebuyer is responsible for paying for the lender's title insurance. If you're not sure about your situation, just ask an expert. If the buyer asks you, the seller, to pay for the title insurance, you should not bend.
How Much Does Title Insurance Cost In Texas?
Title policies in Texas cost about 0.5% to 1.0% of the home's purchase price. They are typically calculated based on the property's purchase price. Reach out to our tax experts for more accurate quotes!